God Father: Salman Khan panicked when Bollywood film flopped, took the support of South people
New Delhi. The film Godfather, directed by Negastar Chiranjeevi, a well-known artist of the South language film industry, is going to be released in the coming times to woo the audience. Chiranjeevi's fans and audience are eagerly waiting for this film because ever since the announcement of this film, there are discussions about this film everywhere. The teaser of this film was also released recently and only after the release of the teaser, there is excitement in the hearts of the people. Mega star Chiranjeevi is going to be seen in the teaser of this film, while on the other hand Bollywood superstar Salman Khan is also going to be seen. Seeing the teaser, it can be inferred that Chiranjeevi and Salman are playing the role of each other's brother. Who is going to play the villain's band in the picture. Here we will talk about this teaser and Salman's now moving towards South language.
For a long time, the biggest films are flopping and the small films of South are also getting hit. There has been such an eclipse on Bollywood people that none of their films are doing well. Till a few years ago, South films were not given that much importance. But today only South films are running. South's cinema is making a splash all over India, while the big superstars of Bollywood are fading. In such a situation, now Bollywood stars are also turning to the South industry to maintain their credibility. Dabang Khan of Bollywood has also joined this list and now he has also turned towards South. A glimpse of which has been seen during the teaser launch of Godfather.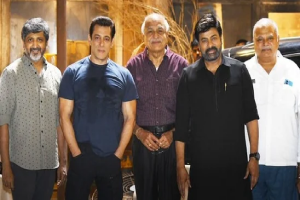 The teaser of the megastar's film was launched on the special occasion of Chiranjeevi's birthday. Where Chiranjeevi is seen in his action and dashing avatar. This avatar of him and the background music of the film are being liked by the people very much. Apart from this, Chiranjeevi's action is also discussed everywhere. In this teaser, when Salman Khan's voice and his face are seen on the screen, then people are stunned to see him. Apart from this, the curiosity of Salman's fans also increases. In this film, Chiranjeevi remains the boss and Salman remains his younger brother. The film will be released on October 5. Some people are praising this teaser while some say that when Bollywood movies are getting beaten then Bollywood stars are turning towards South.
Note: All the information provided in this article are collected from internet sources. BollyTrendz does not have personal claim. If you find any mistake in this article please let us know by contacting us.
Also: The rights of the added featured image in the article is related to their respective creators.
Note: Please don't copy-paste the content of this page to other sites/places on the web. Please do respect the time and effort the author put to write this Information. If you need/want to use info from our website, please kindly put a link to this post. Thanks a lot! 🙂 – BollyTrendz.com