Vivek Agnihotri: 'They turn to drugs', Vivek Agnihotri reveals another pole of the dark world of Bollywood
New Delhi. Some time ago a film was made in Hindi language cinema called – The Kashmir Files. The film became a topic of discussion among the audience. Today, if we talk about some successful films of this year, then the name of The Kashmir Files comes in it. The Kashmir Files not only did well at the box office, but also got a lot of love from the audience. The name that came up the most with this film was Vivek Agnihotri. Vivek Agnihotri was already known as a successful and award winning director. But when he made Kashmir Files, he was discussed loudly all over the country, apart from this he also remained in the discussion abroad. Vivek Agnihotri considers himself a director outside the Bollywood league and that is why he is seen speaking openly on many issues. While he also has an opinion on contemporary issues, he keeps on making sharp comments on Bollywood. This time Vivek Agnihotri has again exposed the truth of Bollywood in front of the public. Here we will try to tell you the same.
Bollywood. An Inside Story. Pl. read. pic.twitter.com/e4WcBvJLLU

— Vivek Ranjan Agnihotri (@vivekagnihotri) August 21, 2022
Vivek Agnihotri tells the inside story of Bollywood
What is this inside story? You all must be thinking about this. Let us tell you that Vivek Agnihotri has told some such things about Bollywood on his social media account. Vivek has written a big article about this, due to which many black letters of Bollywood come to the fore. Whoever is listening is stunned. Vivek wrote –
"I have spent many years in Bollywood to understand how it works. What you are seeing is not Bollywood. The real Bollywood is to be found in its dark trails. Its corrupt part is so dark that it is impossible for a common man to fathom. Let's understand: in these dark alleys, you can find broken dreams, crushed dreams, buried dreams. If Bollywood is a museum of stories, it is also a graveyard of talents. It's not about rejection. Anyone who comes here knows that rejection is part of the deal.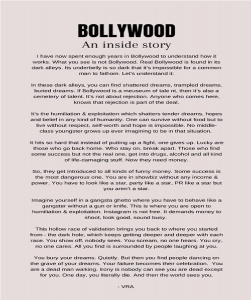 Vivek further writes,
"This humiliation and exploitation that shatters the dreams, hopes and faith of humanity. One can survive without food but it is impossible to live without respect, self-worth and hope. No middle class youth ever grew up imagining being in that position. It hits so hard that one gives up instead of fighting. Lucky are those who go back home. Those who remain are separated. People who find some success but not real, get involved in drugs, alcohol and all kinds of life-threatening things. Now they need money. Therefore, they are introduced to making all kinds of money. Some success is the most dangerous. You are in showbiz without any income and power. You have to look like a star, party like a star, PR like a star but you are not a star.
Vivek further wrote
"Imagine yourself in a gangster settlement where you have to behave like a gangster without a gun or a knife. This is where you are in for humiliation and exploitation. Instagram is not free. It demands money to shoot, to look good, to be busy. This hollow run of recognition takes you back to where you started, getting deeper and deeper with each race. You pretend, no one sees. You keep shouting, no one listens. No one cares even when you cry. Whatever you find, you are surrounded by people who are laughing at you. You bury your dreams. Silently. But then you find people dancing on the grave of your dreams. Your failure becomes their celebration. You are a dead man walking. The irony is that no one can see you dead except you. One day, you really die. And then the world looks at you. Vivek Ranjan Agnihotri
Some such article has been shared by Vivek Agnihotri. Where he has talked about the dreams of Bollywood and his death. At the same time it has also been told that this Bollywood really kills you one day. Vivek Agnihotri has also requested everyone to read this article.